Welcome to incomeonline.club. The network of professionals in business, leadership, marketing and self development.
Here at Income Online Club we dedicate our time to empowering people with skills and habits that are required to live financially independent.
With our site we focus mainly on affiliate marketing. Learning the skills of success affiliate marketers. We strongly believe in learning the skills required for our goals and applying what we learn to reap the results that are set forth.
What do we do?
incomeonline.club is a community created for newbies and advanced people who are in the "make money online" niche. We take pride in adding value to people here at incomeonline.club.
The value we offer can be used in any niche, and any aspect of life in general. However we primarily focus on affiliate marketing and we offer resources and tools to start a business as an affiliate marketer.
We also focus on inspiring anyone seeking to start a business online, and that is a passion and blueprint of our site.
Making Money With Affiliate Marketing
Affiliate marketing defined is a marketing arrangement by which an online retailer pays a commission to an external website for traffic or sales generated from its referrals. There are two aspects of affiliate marketing.
One aspect of affiliate marketing is CPA marketing and CPA stands for Cost-Per-Action or Cost-Per-Acquisition.
This is where an advertiser pays for a specified acquisition, for example a sale, click, or form submit. You can get paid for someone simply entering their name and email address.
In order to get started with CPA you first apply to a few of the top CPA networks such as..
MaxBounty
PeerFly
CashNetwork
AdWorkMedia
Adscend Media
Then you will decide what part of the world you want to advertise. Once you have done that you choose what offers you will promote and start advertising.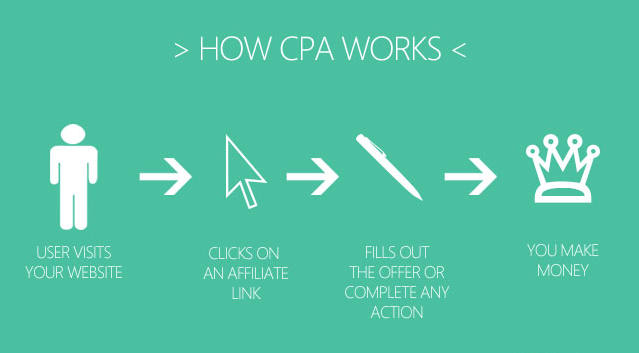 The other aspect of affiliate marketing is Revenue sharing also known as cost-per-sale. You get paid for a sale someone makes.
This method is 80% of affiliate marketing programs and is dominated by Amazon and eBay. To get started with revenue sharing I suggest you start with ClickBank and Amazon Affiliates.
What are you selling?
Most people don't like the terms "sell" or "sales", however selling is the highest paid profession in the world. Why?
Simple, everyone wants to buy, but no one wants to be sold. We buy things everyday all day, however we will give away the things we don't need vs selling them to earn a return on our investment.
In affiliate marketing you don't have to sell your own products, you can join a affiliate network and sell products that people buy daily from well known distributors.
The key is to get traffic that is already seeking to buy these products.
Why Choose Affiliate Marketing?
Affiliate marketing can be used to market pretty much anything online. Before we dive into why affiliate marketing is great to get started with, we will break down what affiliate marketing is.
Affiliate marketing is a marketing arrangement by which an online retailer pays a commission to an external website for traffic or sales generated from its referrals.
Make sure to check out "Wealthy Affiliate Review | 2018"  for information about training in affiliate marketing.
Mission With Welcome to incomeonline.club
Our mission here at incomeonline.club is to empower millions of entrepreneurs to be financially free using affiliate, network, & CPA marketing along with our personal development projects.
We are always improving our content and engagement here at incomeonline.club with regular updates on our products and services.
We desire for everyone to become like family and take their situation to where they desire. The sole purpose of incomeonline.club is to create a culture of liked minds who are destined to live the good life!
If you ever need a hand or have any questions, feel free to leave them below and I will be more than happy to help you out.
All the best,
Demetra
incomeonline.club